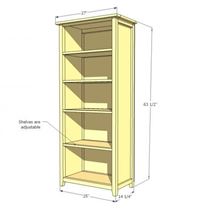 A while back I wrote a post wondering why there were no good sites with woodworking plans that were nicely categorized and reviewed. Most of my requirements in that post have been met at http://ana-white.com
There are over 1000 plans on the site and they are all free. Each one that I've looked at has had very detailed diagrams, cut lists, etc and none of them have been too terribly complicated. You're not going to find heirloom quality pieces here for the most part, but there is are a lot of great ideas for around the house.
I've burned a lot of time flipping through the projects and getting ideas. Stay tuned for a post about one project I've already built using plans from this site!