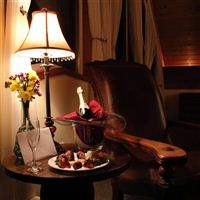 For our first anniversary, we headed out to San Juan Island to stay at States Inn & Ranch. It's not your typical bed and breakfast, but it was perfect for us. As the name implies, the inn sits on a working ranch, and we were able to roam wherever we wanted. Tyla spent hours and hours watching and petting goats, pygmy goats, horses, sheep, alpacas, chicken and a llama.
We got the explore the island a little bit as well. The remnants of the Pig War fought between the British and Americans are still visible on the island. In fact, the British camp is the only place where the National Park Service raises a non-American flag.
All in all, it was a very relaxing trip punctuated by great food and lots of animal interaction. The California room where we stayed is visible in the picture below. it's on the second floor and has enormous windows. We had a great view!
I've uploaded our favorite photos into the photo gallery under the tag San Juan Island. A few of them have gone into my dSLR Favorites gallery as well.