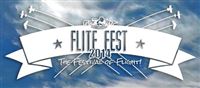 I've blogged quite a bit about the guys over at FliteTest.com. They're almost my sole source of information as I've leanred the RC hobby. Over the last 6 months, I watched every single one of their 400+ videos on YouTube.
There are lots of radio controlled plane/helicopter airshows around the country. The Flite Test crew travels to a lot of them, but they also decided to start their own this year. They decided to fund it with a Kickstarter and timidly asked for $5000. The hordes of fans smashed down their doors waving money in the air and they were fully funded in less than a day. They kept adding stretch goal after stretch goal. At the halfway point of their month of fundraising, they were at $32,651!
They wisely had quite a few options for fans to back them even if they couldn't make it to Ohio for the Flite Fest event. I joined that group and pitched in some money. I can't make it this year but I would absolutely love to visit them sometime in the future. It also got me excited to look at local RC airshows and possibly visit one here in Washington.
So kudos to the Flight Test guys on a massively successful Kickstarter campaign! I'm hoping that this outpouring of support will convince them to sign up for something like Patreon.com to help fund their twice weekly videos too. I've written to them about it and it sounds like they're investigating. They provide us so much value that we'd like to give them some value in return!