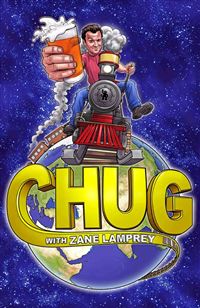 I first saw Zane Lamprey on a show that began in 2006 called Three Sheets. He traveled around the world learning about local alcohol and drinking customers. It was educational, intoxicating and funny all at the same time. The MOJO HD network got canceled and the show ended with it. The reruns fluttered around on various networks like FLN, Travel Channel and Spike but never got picked up for new episodes. You can still watch most of the episodes on Hulu for free.
His next show was called Drinking Made Easy. It was a similar idea except that this one featured a lot more of his friend Steve McKenna and it seemed more about drinking and less about education. I watched all the episodes but it never had quite the same appeal to me that Three Sheets did.
There were 50-60 episodes of each series before they died. Zane did some podcasting for a while but was always trying to find a way to get something like Three Sheets back on the air. It's apparently very difficult to get TV studios and networks to pony up money for this type of show. So instead, he turned to his rabid and slightly inebriated fanbase in the form of a Kickstarter. The goal was to fund about 6 episodes of a new show he called "Chug." The name is a reference to both drinking and the trains he'd use to travel from city to city. The funding campaign was an enormous success allowing them to produce more episodes and longer episodes than initially planned. The first episodes are coming out now, but you had to back his Kickstarter to view them. (Lucky me!)
In addition to the crowd funding, Zane put a bunch of his own money into the project too. In the end he had a show that was exactly what he wanted and he started shopping that around to the networks. But this time, instead of asking for money to produce the show, he was selling them the rights to air his program! What a different conversation! National Geographic liked it and will be airing the show. If it does well, they'll fund another season out of their own pocket.
I'm not only happy for Zane and happy to see the new episodes of Chug, but I love this new model of funding your dreams. You no longer have to convince somebody behind a desk that your passion is worth their time. If your dream really does have a chance, you can prove it all on your own with crowd-funding from a site like Kickstarter. You cut out the middle man and go directly to the people.
I would have been even happier if Zane didn't try to shop this around to the networks and instead did a completely web-based show, letting the people fund future seasons, but I guess there's still enough money and distribution left in the networks to make that a worthwhile path. I'd be polishing my resume if I worked at a network though. Their days are numbered.