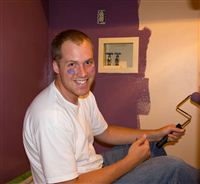 After a long and crazy journey, we finally closed on the house on Friday! We were very thankful to finally have the keys in hand and be the proud owners of a house that exceeded our dreams.
Friday night we went over after work to meet with the carpet guy and have dinner on the floor. Logan was nice enough to bring over a little fridge so we could keep beer cold over the weekend.
Saturday morning started with spending a lot of money at Home Depot (a theme of the weekend) and then painting and cleaning. The whole Brandt family came over to help for the entire day. We got the whole kitchen deep cleaned and painted the living room and taped the family room.
Since we were going to church on Monday night this week, we were able to spend all day Sunday at the house. The whole family came over AGAIN and Tim and Chelsea were there too. With all that help, we were able to get both bathrooms cleaned, two coats on the family room and kitchen and one coat in the master bedroom! Tyla and I finished the night by putting a coat of purple in the laundry room.
It was a long weekend, but it was a blast to be in the new house and show our friends and family around. Appliances come later in the week and carpet comes next week. Combined with all the paint and little projects we're doing, it's really going through a big transformation.
We can't thank you all enough for helping out! It would have easily taken us a couple weeks to get this far on our own. We're both eager to get moved in and have you over for relaxation instead of work!
Photos are available under the House tag.