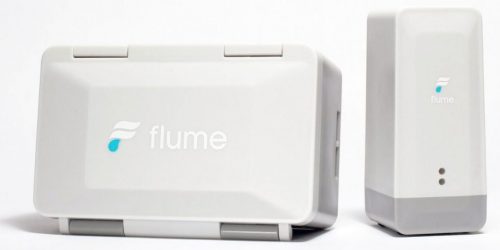 A few weeks ago, I watched an Ask This Old House video about laundry room leaks. A few days later, a coworker had to rush home because one of his washer water supply hoses had sprung a leak. This is something I already think about from time to time and I was finally prompted to take action.
The first step was replacing my rubber hoses with some nice braided hoses. I made sure to get specific high efficiency hoses that could supply water quickly enough to our washer. Our existing hoses were ~10 years old so it felt good to replace them.
But that only helped the washer. What about the ice maker supply line? Or the various toilets? I thought about getting a bunch of water sensors and having them around the house, but Tim mentioned the smart meter from Flume Water. After a little research, I was hooked and thanks to the magic of Amazon Prime, it was on my doorstep when I woke up the next morning.
The box strapped on to my meter. It just sits next to the meter. No plumbing is required. Most meters work with a magnet that spins as the water flows so this device can read that magnetic field and understand how much water is flowing through. That connects to a WiFi bridge in the house and from there the data gets sent to Flume where it feeds the app on my phone. I can now get minute by minute water usage reports and I can set up rules for alerting me to water leaks. For example, any water that runs for more than 2 hours will send me an alert, or if I have water flowing at more than 6 gallons per minute for 15 minutes, I'll get an alert. It's not as nice as the systems that will automatically shut off the water, but it's considerably cheaper and I have enough neighbors that I could call to have them shut off my water if I wasn't home.
Most people would stop there, but Tim also mentioned that some irrigation systems will integrate with Flume to detect abnormal usage. I realized I could set that up myself because I'm already pull data from my OpenSprinkler irrigation controller and the Flume device has an API as well. Before too long, I had a program written that would know what zones were watered at each period of the night, look at the total amount of water they consumed, and alert me if there are any oddities. Last year I had a broken irrigation head right near the drain in the curb so I didn't notice the water dumping down the drain until I got a higher than normal bill. With this setup, I would have known the first morning after that happened.
Even without the geeky add-on, it's still a pretty neat device. It's one of those things that probably isn't worth it if you never have a leak, but if you do, it will pay for itself a thousand times over and the peace of mind is worth something too. Also, I now know that it costs about 2.5 cents to flush a toilet.