It's been just over one month since we switched from Verizon to Xfinity Mobile. We have two phone lines and I started us with just 1GB of shared data between us. We were used to sharing 2GB before, but during the pandemic, I've been working from home and we were only averaging around 0.9GB/month. I really wanted to see if the bill would actually be under $20 so I left my data off all month.
The month is up and *drumroll* here's the bill…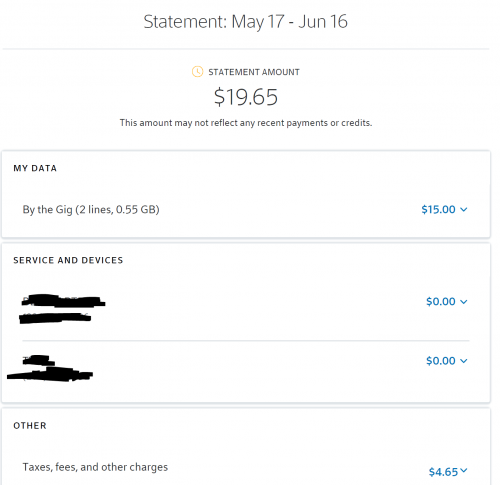 It actually worked! This feels so much better than the $80/month we were paying for almost exactly the same thing before. (It literally is the same cell network behind the scenes.) At some point in the next couple months, we'll be in a situation where I think I'll switch us to unlimited data for a bit but it's very nice to be able to adjust up and down just by clicking a button in the app on my phone. Our choices right now (before taxes) are:
1GB $15
3GB $30
10GB $60
Unlimited $80. Technically we could switch one phone line to unlimited for $45 and leave the other one one the shared 1GB plan but we'll generally want to switch both phones to unlimited.
Anything that bills us monthly gets extra attention from me so I'm very happy to have this bill be more reasonable and under our control. I do have to say that it annoys me that I didn't do this last fall when we got our new phones and this carrier switch possibility opened up to us. We easily wasted $300+ by not doing this sooner. Better late than never though!