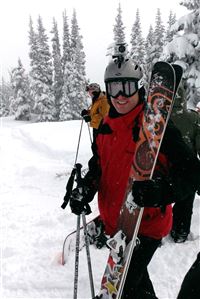 As we came back from our vacation last Wednesday, I checked the forecast and saw that it was dumping in the mountains. I immediately emailed work, told them I was going to extend my vacation by one more day and recruited a friend from work to come with me. (Safety first, ski and ride with a buddy on deep days!)
We headed to Crystal for the first big powder day since December and we weren't disappointed! They had received about two feet in the last day and a half and roughly 8" overnight. We started by going towards High Campbell but it wasn't open yet so instead of waiting in line, we took three untracked runs down the Forrest Queen lift. Then we headed over to check out Green Valley and poked around there until Northway opened. Once the Northway light turned green, we headed over to gate 5 and dropped into Paradise Bowl. That has probably been my favorite run all season, but Thursday was by far the best I've ever seen it. The snow was bottomless and untracked. My new skis were completely fantastic in the deep snow and I flew down to the bottom with snow bouncing up into my face. For our next run we clicked out of our gear and took the hike up to the top of Morning Glory bowl. Another run of fresh turns were a nice reward for the hike. Before we knew it, it was 2pm and we decided to call it a day. The GoPro was out for just about every run and if I do a season edit then I'm sure some of these runs will make it into the video.
It was easily the best day I've had since December and one of the best days I've had all season. Thanks to AndyM for coming along and sharing it with me! Looking at the forecast this might be the last big powder day of the season.