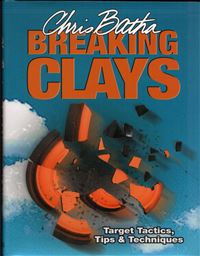 I picked up a copy of Breaking Clays: Target, Tactics, Tips and Techniques by Chris Batha in hopes that it would help with my trap shooting. The first half of the book is an introduction to shotgun sports while the second half covers the various sports and doesn't spend a lot of time specifically on trap. I did get a few good tips though which are shown below:
When you miss, it has little to do with the ballistics of the shotgun – choke and cartridges give you inches where you miss in feet. A miss is more often caused by a breakdown in the fundamentals.
If you can keep the muzzles on the line throughout the shot, you limit your misses to in front or behind. You instantly achieve a fifty per cent reduction in missing. You also gain a significant second benefit. As a competitor, if you miss, you need to know the fault or the cause and understand the correction. If you can stay on the line, it becomes easier to recognise the fault. You miss either in front or behind, now you can analyse the cause and apply the correction. You can improve the odds even more. You can make sure that if you do miss, it is in front of the target.
Raise your eyebrows just before you call for the target. This simple action gives you a twenty per cent increase in light-gathering vision.
Clay target shooting is different from other sports in that there is little physical activity to relieve stress build-up which increases incrementally as scores increase.
The inability to suppress left brain activity is what leads to 'choking'.
My approach is, they are all one-bird competitions. You should take each target one at time. See the target – break the target. Concentrate on each shot as an independent and all-important target and forget about everything else…especially your score!
There is no such person as The Natural. I will allow that there are a few participants in any walk of life who can learn a motor skill quicker than the average person. But there is still a ceiling to their progress – they just reach it quicker. The learning curve of any activity is never a straight line; it consists of peaks and troughs and very often long plateaus of little progress.
The book also taught me where the term "trap shooting" comes from. It started in England when they would place a bird on the ground and cover it with a box. You would move the box, pick up your gun, and shoot the fleeing bird. When people got too good at that, they attached a string to the box and moved farther back. When the sport came to America there was a shortage of pigeons and doves so they switched to the clays instead. In the 1920s, England made it illegal to use live birds in trap shooting.