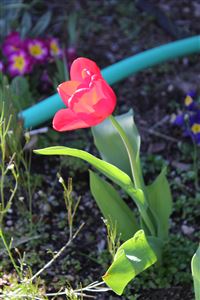 Last year, Mom and Dad were out here during the tulip festival so we headed up that way. I purchased a few tulips in a pot for Tyla who wasn't able to come along with us. When I purchased them, I asked if they could be replanted. She said there wasn't much chance of that working because they were raised in a greenhouse, yada yada yada.
I decided to try to plant them anyway so I followed the various instructions I found online. After the flowers died last spring, I trimmed off the stem, pulled out the bulbs and placed them in a paper bag which I kept in the garage. In October I put the bags in the fridge for about 30 days and then I planted them out in the yard.
Much to my surprise, about half of them actually came up and produced flowers this year!
We're planning a big yard remodel and I think I might try to work in a section of tulips. Nothing is as beautiful as those endless fields of tulips up north, but it's a good reminder of the fun times we've had up there.