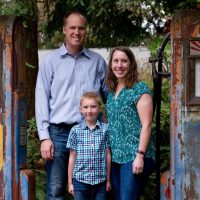 Last year we were slogging through lockdowns waiting for a vaccine to end the pandemic. This year we got the vaccine, and the vaccine was effective, but the virus is still spreading because not enough people are willing to get the shot. It's easy to get down and wonder when this will ever end, but Bill Gates wrote a great article about some reasons for optimism. He is hopeful that the impact from COVID-19 will finally peak in 2022, but he also addresses the problem of mistrust in governments. It's nice to hear an expert be optimistic about the future, but ultimately, my comfort comes from God and knowing that he is working this all out for our good.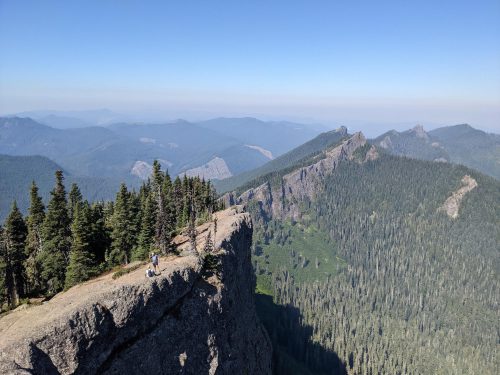 With so many trips and adventures being off limits and/or out of our comfort zone, I made a concerted effort to try to find fun things for us to do. We ventured further down a local trail, explored Spencer Island, took a cold trip to Deception Pass, went on a muddy hike at Lord Hill, drove deep into the woods on forestry roads, saw a bazillion sand dollars at Dash Point, stayed in a cabin at Bay View, saw old coal mines, camped at Deception Pass, did our first bike/hike to Ipsut Falls, made it back to Indiana, visited some goats at the Sammamish Animal Sanctuary, hiked around Snoqualmie Falls, camped at Grayland Beach, did an epic hike to High Rock Lookout, climbed to Red Top Lookout, whale watching, and Howarth Park to watch trains.. I tried to organize at least one family adventure every month, and though I didn't quite get there, hopefully we're getting back in the groove now. All three of us are vaccinated, and we'll be exploring a few more options than we did in 2021. One thing I want to repeat is having Elijah pick out hikes from a book. We got all of them done except one, and I think the fact that he picked them out himself really helped him get excited about the hikes. He keeps talking about doing a backpacking camping trip so I'll have to see if we can work that in as well.
It was another busy year for me at church. Aside from all the discussions about how to handle the pandemic in our church, both our pastor and our school director took calls to other churches. After having some of our calls for new workers were returned, we were blessed to receive a graduate from MLC and a graduate from seminary. With all the empty positions in our synod right now, we were amazed and thankful to be the only church that received two graduate assignments. Next year will be a big change for me as I'm not going to be on the church council. I've held a position for 14 out of the last 15 years, but it's time for a break. Instead of an elected position, I'm going to carve out my own niche and focus on improving our technology. One of my first projects will be ripping out all the AV equipment, replacing some of it, throwing some of it away, and building a new desk to hold it all. I'm excited to dive into that project and be out of the leadership arena for a while.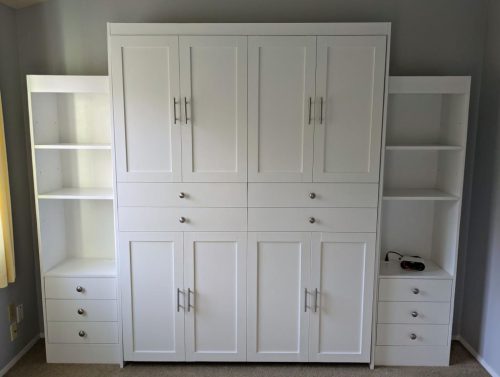 Speaking of building things, after spending all last year working on the chest of drawers, the floodgates opened in 2021. I was able to knock out a bunch of projects including a murphy bed, strawberry planter enclosure, picture frame, gas fire table, "God is here" sign, desk for Elijah, router table fence, drill press table, cat perch, some custom card boxes and a cat tree. On top of that I also sold a wood American flag and a "but first pray" sign at Elijah's school auction. I've contributed to a few auctions in the past but I either haven't heard how they went, or the items were part of a bundle. This was the first time my items sold individually, and it was fun to see people get so excited about them.
As we look back at 2021 from the future, I suspect we'll also remember this as the year we committed to an EV vehicle. It still feels futuristic and we're still waiting for it to actually show up in our driveway, but I pray that we'll look back on this as a good decision.
There's a lot of content in those paragraphs, but the year didn't feel super busy. Working from home saves so much driving time and I don't know if I'll ever choose to work in the office again. Since I don't have to commute every day, it makes me want to move a bit farther away where we have a little more space. But deciding what area to move to has been so daunting that we never get very far in the thought process before shutting down the search and being thankful for what we have.
When the pandemic started, we put everything was on hold until it ended. Now it's pretty clear that COVID is going to be with us for many years so waiting for it to end isn't a good approach. 2021 was the year of starting to figure out how to do more within the constraints. I'll be working to improve on that in 2022.
Previous Year In Review Posts: 2003, 2004, 2005, 2006, 2007, 2008, 2009, 2010, 2011, 2012, 2013, 2014, 2015, 2016, 2017, 2018, 2019, 2020