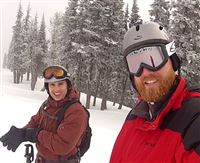 When I moved out to Seattle, Jay and I went from roommates to pen pals, but we still try to get together in person every year or two. A couple weekends ago, Jay flew out here for a few days.
The first two days were spent skiing at Crystal. Unfortunately the day before he got here, the weather got really warm and the snow melted all the way to the peaks at the resort. It then froze overnight leaving us with some really hard packed snow. We stuck to the north faces of the hills and found some stuff that was soft enough to keep us entertained, and of course it was nice to be riding ski lifts together again.
He got to witness the biggest fall I think I've ever had. Thought it might mean that Tyla will never let me ski again, I will recount it here. Powder Bowl is one of the steepest/longest slopes on the mountain and the tiny chairlift that gets you to the top is littered with expert only signs. That being said, I've skied it many times before and if I had to pick my single best run ever, it would probably be one I took on that slope. This time it didn't go quite as planned. Once we got through a band of rocks and into the main slope, I somehow lost a ski, and got turned around. I ended up doing a backflip straight down the mountain. I later learned that as my feet went up in the air I kicked a ski right at Jay's head. Luckily he saw it coming and was able to duck. I think I only flipped once, but it was so steep that I was now rapidly descending the hill on my back. I got rolled over to my front and thought "I finally get to practice a self-arrest!" I gripped my one remaining ski pole with both hands and jammed it into the snow. That was supposed to stop me, but the snow was so icy and the slope was so steep that it barely even slowed me down. That's when I really started to get scared because I had no way of knowing if I was going to run into something, and even if I didn't, the 3-4 foot drop to a cat track at the bottom would surely cause trouble. I gingerly tried to dig my boots into the snow. If you dig in too hard you'll just start cartwheeling again. Luckily that previously melted snow was very smooth and I was able to bring myself to a stop. From way up above I heard Jay yell to ask if I was ok. Luckily for me, he was able to collect my skis and missing pole. I was carrying my GPS during the slide, so while writing this post, I dug out the dataset and did some math. My slide lasted 130 yards at a constant slope of 38 degrees and reached speeds around 25mph. Thankfully I escaped with nothing but a pounding heart and wet pants which I still claim are from snow that got in during the fall. Jay had a pretty good fall and slide the next day, but he had to climb back up to get his own gear since I'd already hea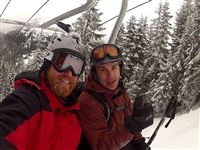 ded part way down the slope. Thankfully he was ok too. So aside from those two events, skiing was a lot of fun. We spent most of our time exploring back in Northway and Green Valley.
We met up with Tim and Chelsea for dinner, and then the next day we went shooting at the trap range. Jay bought a Remington 870 too but hasn't been able to shoot it because of the temps and snow in Syracuse. We had fun breaking some clays and then stuffed our faces with Mod Pizza.
All in all it was as great extended weekend. Thanks to Jay for flying all the way out here to visit and thanks to Juliet and their kids for loaning him to us for the weekend!